Cameroon separatists attack military post
Guy Bandolo
BBC News, Yaoundé | May 02, 2021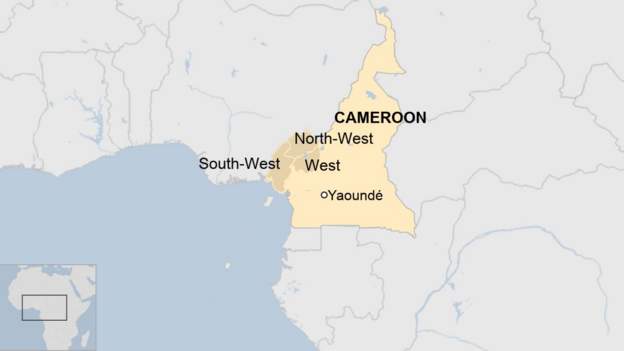 At least four soldiers have been killed in an attack in Cameroon on a military post in the West region, which borders an area where English-speaking rebels are fighting for a breakaway state.
Separatist leader Mark Bareta posted a video on Facebook saying the attack was in retaliation after the army's arrest in the Anglophone territory of three civilians.
A municipal councilor in West region's Ngalim district confirmed the attack on the Menfoung military post, without giving further details.
The West region, particularly the areas of Menoua and Bamboutos, are regularly targeted by separatists.
The UN estimates that at least 3,500 people have been killed in the English-speaking regions of North-West and South-West Cameroon since the secessionist conflict began in late 2016.
Anglophone activists say the country's French-speaking majority is marginalizing the English-speaking minority.
=============================================================================
Curfew imposed in Chad after president's death lifted
BBC News | May 2, 2021
The military council in charge of Chad has lifted the overnight curfew that was imposed following the death of President Idriss Déby last month.
There has been a concern for the country's stability in recent weeks as a rebel group has tried to advance on the capital N'djamena.
The authorities said Mr. Déby had died from his wounds after being shot whilst on the front line of the conflict. The military says it has killed hundreds of the rebels from the group Fact.
There have also been protests against the military takeover that followed the president's death. At least six people were killed last week in Chad.
Demonstrations have also been held in various cities around the world including Paris.
=============================================================================
Ex-rebel commander appointed Darfur governor
Sudan's prime minister has appointed a former rebel leader, Minni Minawi, as the governor of the Darfur region.
In a statement Abdalla Hamdok said the appointment was part of last year's peace agreement that was signed by the government and various rebel groups with the aim of ending conflicts in the country.
Minni Minawi led the Sudanese Liberation Army – one of the main rebel groups during the civil war in Darfur that began in 2003.
In recent months, there's been an escalation of violence in Darfur following the withdrawal of UN peacekeepers.
Dozens of people have been killed in inter-ethnic clashes and there have been growing calls for militias to be disarmed.
===========================================================================